Body Work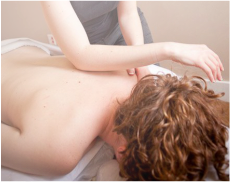 For those looking for quality body work with a massage therapist who is intuitive and responsive to the bodies' needs we offer many modalities.

Relaxation- Let us help your body to breath deeper and feel more inviting. We use a combination of long smooth strokes and attention to areas that hold stress, maintaining a focus of relaxing touch. Ask your massage therapist about adding Aroma Therapy and a grounding element of Hot Stones to your experience.

Pregnancy - We help support the changing body. This is an exciting time, but it can also bring discomfort as the body prepares for birth. Enjoy our cocoon of supportive pregnancy bolstering pillows (accommodates face down massage!) and heated table while we restore your aching body back to the exciting vision of motherhood!

Deep Tissue - We know that you our guests work and play hard. Sometimes this leaves the body feeling exhausted and in need of deeper work. We utilize slower, deeper strokes, or friction techniques across the grain of the muscle. Our staff is also specially trained in Orthopedic Massage techniques that safely address chronic or recent injuries such as tendinitis, frozen shoulder, low back issues, whiplash, headaches, migraines and chronic muscle tension.

Sports - We live in a beautiful area full of recreational possibilities and we want to support you in all of your fun. We work with runners, kayakers, hikers, bikers, swimmers, tennis players, raquet ball....If it's a sport we can help! Whether that means helping you loosen up for your next event or working out an injury. We use a combination of techniques including assisted stretching and muscle energy release. Strokes are generally faster in pace which help to loosen muscles and increase flexibility.We also will address self care concerns and help you find the right fit for additional support if needed, so you can get back to the important stuff in life...PLAY!

---