Read what our guests are saying

We love feedback! We look at every entry and look for ways to improve your experience...

Book online 24 hours a day 7 days a week

When you book online using our real time booking agent the appointment is yours! Guests receive an email confirming their appointment is on the books and will also receive an email 24 hour in advance as a friendly reminder.

Purchase gift cards and packages online
& view current promotions

We love being able to help you out with last minute gifts! Instant email certificates are a great way to give the gift of relaxation and spare your anxiety about "when" it will get to you!
---
Our commitment to you....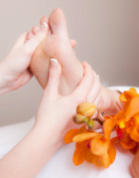 We only work with a handful of guests a day, ensuring that our first session has the same intention and quality as the last.

It can be difficult to find a new massage therapist. There have been many times where we have gotten a massage and walked away thinking "well that was a waste of time and money". We never want guests to feel that way! If you are unsatisfied we offer a 100% refund.
---