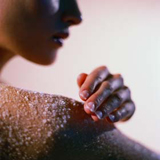 As spring is creeping into our mornings and the green buds of the trees, and pops of color from the ground we are aware of the desire of wanting to sh-luff off the grays of winter and welcome in warmth and brightness.

An enjoyable ritual of spring for me often includes a warm bath...with 2 cups of my favorite Epsom salts. This not only soothes sore muscles, calms the nervous system but also frights muscle strains. Magnesium sulfate is a natural mineral found in H2O and with the use of Epsom salts is absorbed into the skin. It helps to regulate the body temperatures, provide higher levels of energy, and regulate muscle and nerve functions.

Not only is it lovely to be added to your bath waters but adding a tablespoon to your favorite facial cleanser creates a low cost but effective exfoliate. This simple addition will help wash away dead skin cells - follow up with a deep hydrating facial lotion, giving that just stepped into a glowing spring look!